Asian Ethnic Artifacts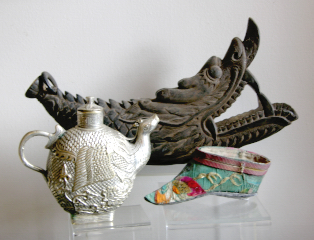 Providing an overview of knowledge and information about China, highlighting the culture, history, artifacts, and textiles of the Chinese ethnic minorities as reflected in both ritual and daily life. Commonly grouped under the terms Tribal Arts or Primitive Arts by collectors, these objects frequently reflect a level of craftsmanship and sophistication unequaled in Western civilizations.
My own contacts have been predominately with the Miao, Dong, Yi and Yao ethnic minority groups.
I am very grateful for their patience in answering my many questions.
Whenever I am in China, my close friend Jessy acts as translator, a difficult and time-consuming task. Most ethnic minorities have their own language and often their own regional dialects. Some know Mandarin as a second language. It is common for our discussions to involve 3 languages.
Visit our online Artifacts Catalog: trocadero.com/ethnic/
About us: Susan Weitzman Conway and Jessy (Yingbo) Zhang
Chinese culture past and present: Brief History of Ethnic Minorities
Bull Fighting - Minority Style Origin of Spring Festival-Legend
Western Myths about Chinese Culture
Ethnic Minority Textiles:
Photo Galleries
Terrace fields of LongJi

Photos from Miao Minority Photographer San Mei

Photos from Dong Minority Photographer MeiXiang
Chinese language: written Calligraphy
Home Building and Construction techniques: Architecture
Travel journal pages: travel to Songpan
Contact Susan W. Conway in Atlanta, Ga. 404-377-7210 or aewswc@gmail.com
Exhibition at the Birmingham Museum of Art
My favorite: Reference Books