The Pleated Skirt: The basic costume of the Miao
Though made and worn by several of China's Ethnic Minority groups, the pleated skirt is most common to the Miao Minority. Variations in length of the skirt, number and depth of the pleats and surface decoration distinguish the skirts of one group from another.
The skirts are complicated, and time consuming to make. They begin with fabric which is hand-loomed specifically for the skirt. The width of the fabric will dictate the length of the skirt. All skirts are "wrap around" style and frequently have a narrow hand made ribbon which ties the skirt securely about the waist.
After looming, the fabric is stretched out on the ground and sprayed with a sticky liquid of water thickened with rice paste. A board is placed under one end of the fabric. Using the board for stability the fabric is hand-pleated using swift and exact finger motions of both hands. This finger motion is very fast and it is only the skill of the woman that keeps the depth of the pleats even and identical.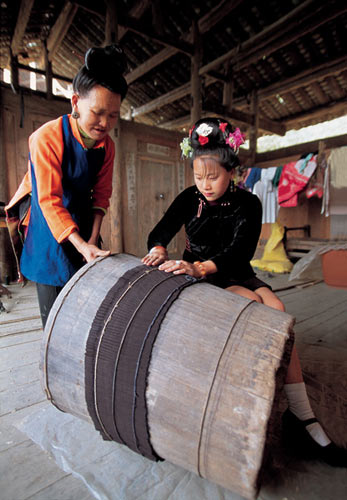 The fabric is again sprayed with the water and rice paste mixture and the pleats are sewn into place. This pleating process may take several days to complete. Depending on the region, the fabric is then tied around a curved form or blocked between boards which are held in place by heavy rocks. This keeps the pleats securely in place while the fabric is left to dry.
Next, the fabric is dyed, washed and dried. The process of dying, washing and drying is repeated many times to get the desired color. Most groups prefer black but occasionally blue and brown are also used.
After the dyeing process is completed, a band of decorative elements is added to the bottom of the skirt. Depending on the region and minority group, this band may include embroidery, strips of hand-loomed ribbon, bits of fabric etc. The pattern and design on this section of the skirt is always dictated by the local customs of the minority group.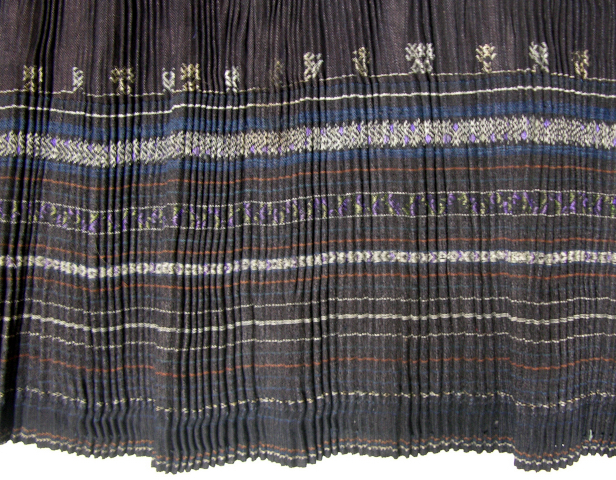 a finely pleated old Yao skirt band detail Miao skirt band detail
Unfortunately, Jessy is traveling on business just now and is not available for "fact checking". I am sure that she will make some corrections to this when she returns. Thank you for your patience