China Travel- Songpan April 2005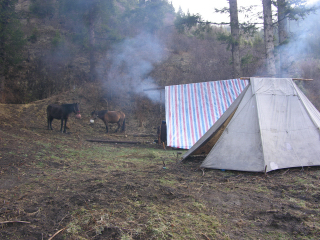 I don't remember where Jessy and I had originally planned to go on our spring travel. I was using my frequent flyer miles and had already arranged my flight dates to allow for a 3-week time spread. This would include about a week in Beijing for business. I was net surfing, fantasizing about another trip (outside of China) for the summer. I would turn 62 in June and had found a web site for horseback riding treks in Greenland. How wonderful…I love horses and cool weather. The money would be an issue since the results of my last 5-year financial plan resembled the results of Mao's last "great Leap" initiative.
I e-mailed the web page to Jessy with a note that we both needed to "get rich soon" so that we could take this trip. Being Mainland Chinese, Jessy's ability to travel is somewhat limited. Also, she is terrified of horses. But with her typical Chinese good nature, Jessy wrote back saying maybe there was such a travel trip in China. She would check around. And then, she actually does check and finds….
An outfit called Happy Trails. They do 1-6 day horse treks in the mountains surrounding the town of Songpan, which is a days bus ride from Chengdu. We can fly there directly from Beijing or fly first to Kunming, do some sightseeing there, and then fly on to Chengdu.
More net surfing revealed very limited and very mixed information in English. Jessy was having somewhat better luck surfing in Chinese. Weather, cold of course. Not a problem for me but for Jessy this is a definite issue. During the next few phone calls, we discussed routes, travel schedules, and equipment. Happy trails provides everything but we had a few concerns in the equipment department. Jessy had never been camping. I explained about tents and sleeping bags. I was a bit at a loss when she asked about bathroom facilities. I was not sure she would understand the American term "doing what the bears do." She did and responded simply that she "would not do that". We were planning a 3-day trip. No point in discussing the matter. I would let her discomfort level would dictate her actions. Jessy has always been very particular about toilet facilities…She is something like a reverse camel.
Personally, I had quit camping about 20 years ago. I did not want to think about the smell of my sleeping bag which had been left in the attic. I know they are made in China now, but can you buy them there? Fortunately, I got very lucky at Sam's Club, a really good sleeping bag at a phenomenally good price... I offered to get one for Jessy, but she had actually found a store in Beijing specializing in camping, and bought her own. (China is changing very fast)….
Weather was a serious concern. One of the few English travel notes on this trip was by a man who went in early May. He described bitter cold temperatures and trails covered with snow. We were going in early April. Some general climate information for Songpan could be found on the web but we would be trekking in the surrounding mountains. Better to be prepared for very cold. Because I take large empty suitcases with me to China, luggage space on the trip from the US to Beijing would not be an issue. Afterward, I could ship the excess stuff back to the US by slow boat; it would take a couple of months but who needs cold weather gear in Atlanta in the summer?
My only other point of concern was the altitude. I had discovered last year during our trip to Shangri-La that I no longer "adjust" to heights i.e. lack of oxygen in the air. Feeling sick (nausea, dizziness, and headache) really makes a trip less fun. And there are the added side benefits of lack of coordination and skewed perception. Jessy had checked the altitudes where we would be…not good news. Songpan was 2800 meters, and we would be climbing from there, not very high (to 33000) but still in the problematic range for me. I would definitely need plenty of Oxygen canisters. Jessy checked, these would be available in Songpan.
The final schedule went like this.
Tues leave US fly to Beijing arriving on Wed…
Thurs in Beijing last minute prep etc
Fri we fly to Kunming…allow 3 days there for sightseeing and business.
Mon. Fly to Chengdu. Visit the Panda reserve.
Tues Early ...catch the last morning bus (departing at 8 AM) to Songpan. Arrival time in Songpan would be sometime after 4 PM "depends on". Meet with Michael, owner of Happy Trails for last minute trip details.
Wed morning meet and greet our guides and horses and mount up …3 days on horseback trekking.
Afterward return to Songpan for an additional night in the hotel…hot water, flush toilets etc.
The next morning bus back to Chengdu, 2 days there for R and R and shopping.
Fly back to Beijing, and business. Easy, we can do this….
I have been traveling to China about 3 times a year for several years now, so you would think that packing would become an established routine. Instead, it seems to be getting more rather than less stressful. I have this nagging fear that, by virtue of the law of averages alone, sooner or later I will forget something critical. Of course, my definition of critical has changed. Most toiletries are now readily available….It may not be your favorite brand of toothpaste , but you can get toothpaste in China.
Clothing is not an issue; I take the minimum and rely on hotel laundries to wash my jeans. Last December I arrived in Beijing without a winter coat. Of course, I had planned to take my coat but, on the way to the airport I realized that I was only wearing my light travel vest. It was too late to go back for my coat. In China, I got a great winter coat at the market and at a very good price. Lucky too, because that trip it snowed my first night in Beijing and the temp never went above freezing.
I guess the major "do not forget" items are really just a few…passport obviously, money, bankbook, and shoes, definitely shoes…. it takes me forever to get a pair of shoes that are comfortable and fit properly. I don't want to waste valuable time in China on a shoe hunt.
Packing for this trip was more cumbersome than usual since I was also taking winter clothing and camping gear. Space was not an issue but remembering everything was a concern. I was convinced it was going to be very cold and I wanted to be prepared.
Due to fight connections, I usually leave for the airport around 6:30 AM. My friend Radar takes me. He usually shows up early and helps with last minute….did you pack??? Etc. Suitcases to the truck, pet the dogs, travel plans, dates and phone #s on the frig, and off to the airport.
The route is Atlanta to Chicago change planes and fly to Beijing. The Beijing flight is 14 hours, and these days the planes are full. I have tried lots of different pills but the bottom line is that I rarely sleep on a plane.
I arrive the next afternoon (Beijing time). Jessy meets me at the airport and we head for the hotel, which is really my China home base.
This hotel is not a Western tourist hotel...but it is clean and inexpensive. In addition, the rooms are large. As a dealer of ethnic artifacts the space is critical. Also the hotel is within easy walking distance to Jessy's apartment. It does have a few peculiarities even by Chinese standards. Breakfast is over at 8AM. Do not try to take a hot shower between midnight and 6 AM. In China, it is illegal to have unregistered guests in a hotel room after 11PM and this hotel is very vigilant about this regulation. They begin calling the room around 10:30 and proceed to call every few minutes until your guest exists the front door. For this reason, even though Jessy lives very close to the hotel, she registrars as the 2nd person in my room for no additional charge. For the first few nights she did this, the hotel staff would stop her on her way out of the hotel late at night and demand to know where she was going. Now, they are use to us with our comings and goings and volumes of luggage.
Jessy checks into the hotel before meeting me and has equipped the room with some additional items to make my stay more comfortable...coffee pot, snack foods, small toaster oven, DVD player...did I mention snack foods....office supplies, etc.
In the hotel room, we unpack and discuss last minute travel details. To simplify our traveling, Jessy has arranged with a "freight for order" company to pick up our trekking gear the next morning and deliver it to our hotel in Chengdu when we get there.
Thursday morning after breakfast we begin "the great gear sort" We have 3 classes of stuff. Pile 1 cold weather gear, camping and riding stuff to be shipped to Chendu. Pile 2 comfort items to be left in hotel storage in Beijing and Pile 3 items to be taken with us for general travel use.
Pile 1 comes first. After reading as much as possible on the climate and weather in Songpan, both Jessy and I are very concerned about cold weather and we are very well prepared....Sleeping pads, bags, and liners, backpacks, winter coats, hats, gloves, heat packs, boots, long underwear, well, it's a big pile. The sleeping bags and pads are tied together with a luggage strap. The rest will be put into the carton that we assume that the freight for order guy will bring when he comes to pick up the stuff. Wrong, he arrives and, obviously he had no idea what size carton to bring….So, it all gets tossed into my large suitcase, taken to his car and the suitcase is then emptied onto his rear seat, along with the sleeping bags and pads which are still tied together with the luggage strap. Yes, you read correctly. All that "stuff" (required for our riding adventure) got loosely tossed into a stranger's car with no inventory sheet. Actually, I don't think they had the name of the hotel in Chengdu either. I think Jessy called them later with that information. Welcome to China.
Now we pack the usual travel stuff for the trip to Kunming. We have an early morning flight and will be in Kunming for 3 days before flying to Chengdu. I am taking my large suitcase. Jessy has realized that there is no way to talk me out of the extra luggage space. I intend to go shopping in Kunming and will need the space.
The next morning, we go for early breakfast in the hotel. Then we pack all the "comfort" stuff and extra clothes that will be left in hotel storage in Beijing into my other large suitcase. We check out, get a taxi and we are off to the airport.
The 3 days in Kunming did not go exactly as planned. Jessy got the hotel I.T. person to set up her new laptop to be used with the hotel internet line….and then Jessy figured out how to play DVD's on the laptop using the hotel TV for a monitor. We shopped the entire 3 days and had fun doing it. We ran into a dealer whom we had met previously in Dali. He had just set up a shop in Kunming. By the end of the 3 days, arms loaded, Jessy went off to buy another suitcase. Somehow, we never got around to sight seeing, never got to the Stone Forest…It is on the list for another trip..
We fly to Chengdu and arrive in early afternoon at the hotel. After check-in, we inquired about our "shipment" which was supposed to have been delivered. It wasn't.
Jessy reassures me…no problem, so off we go to the Panda Reserve.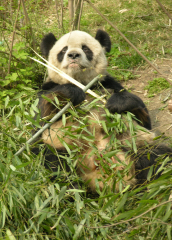 When we return to the hotel, we check at the front desk...no shipment. Jessy calls the shipping company. There is a long conversation (in Chinese) which ends abruptly….not a good sign. It is the first of many, many such calls. Our parcel is finally delivered at 1:30 AM. We have tickets for the last bus of the day to Songpan leaving at 8AM
We just have to unpack the "large box" with all our camping gear and cold weather stuff (OK, it is a very large box...about 4'x2'x2'and cannot go on the bus), reorganize everything….Pack my large suitcase, and the extra suitcase we had to buy in Kunming with everything to be left in our Chengdu Hotel for storage. All the winter clothes and camping gear is going with us to Songpan. etc.
Fortunately, the hotel starts breakfast at 6AM and it was really a good buffet. Somehow, we get to the bus station on time and with everything we think we need. We manage to get some of our stuff into the bus's luggage compartment and the rest is stowed somewhere on the bus…, which is very full. From what I can tell, there is no scheduled arrival time in Songpan….it "depends on" and can vary from 3PM at the earliest to…..
The bus moves through the traffic at what, in my opinion, is more than an adequate rate of speed and the driver uses his horn very consistently. We are quickly out of Chengdu, move rapidly thru the surrounding area and then start into the mountains of Sichuan Province. I am not religious by nature but some experiences have to be met with the attitude (or at least the hope) that luck, or the force, or whatever will be with you.
I like rugged mountain landscapes but as we climb, the atmosphere thins and the sun has gains strength. The bus is warming up. Finally, a bathroom stop, Jessy and I look at the….structure?…..and we decide we can wait. When everyone is re-seated, the bus driver turns on the AC…cheers are heard, then the driver instructs someone to close the roof vents. One of two vents is stuck in the open position. It refuses to close. The driver turns off the AC….and it is never turned on again. I suggest to Jessy that I, or she and I, fiddle with the broken vent. We are both mechanically inclined…Jessy explains this would be totally unacceptable… we are female and I am a foreigner…the loss of face would be terrible for everyone. Better a sweltering bus???
Now we are maneuvering on a dirt road ..at least it is being used as a road. It goes for miles. There is a river and the largest complex of bridges and overpasses under construction which I have ever seen. This project is awesome by US standards. I am told later that it continues for 40 kilometers. It winds through several small towns, which appear to be deserted. Numerous signs in Chinese proclaim safety and progress. When it is finished, this highway will cut the trip to Songpan by two hours.
But that is in the very distant future. Now, we appear to be in a major traffic jam…. we are on a two lane street winding through a town, and I can easily walk faster than the bus is moving. It is now so hot in the bus that I am actually thinking about getting out and walking. Several of the male passengers are now pacing along side the bus. Jessy indicates that she does not think this is a good idea for us.
After an hour of stop and crawl, we come to the problem. There is an accident in the left lane. There are numerous policemen, each busy talking to various people, taking reports etc. No one is directing traffic through the one remaining open lane. Jessy looked aghast at me when I mentioned the idea. She responded that the police busy with their interviews. Obviously it was not their job to direct traffic. The drivers from opposing directions are left unassisted (and unregulated) to dispute the right of way on the one remaining open lane. This may be China but there were no observable traditions of courtesy here…simply a game of road chicken with (I presume) fear of lose of face to the loser, and with the obvious result of frequent gridlock and long lines of traffic in both directions. Indeed, we seem to be in competition with a very aggressive driver of a large flat bed truck. Our bus driver is younger but he is determined not to lose face. After all, he must consider the travel plans of all his passengers, as well as the 3-4 miles of bumper-to-bumper vehicles lined up behind him. Grid locked again.
Jessy protested but came with me as I got out of the bus. We walked down the road, found a spot of shade and waited. Somehow, the territorial dispute must have been settled because after a while, we saw the bus moving confidently down the road, and we smiled appreciatively as the driver stopped and permitted us back on the bus.
Having cleared the accident scene and the road construction, it is now after 1PM. The bus was now climbing through the mountains, serious mountains. Jessy mentions that some of the other passengers are complaining about how the driver is going "so slow".