CALLIGRAPHY: CHINA'S WRITTEN LANGUAGE
China is a country with numerous spoken languages and dialects. And, for centuries, China has had one single written language. Throughout its history, when people of different regions (and languages) would meet, they could and would conduct whole conversations by passing a pen and paper back and forth.
In the 50's the Chinese government changed the practice of writing by reducing the number of characters from 50,000 to 30,000. In addition, the direction of the writing was also changed. Instead of the vertical top to bottom, right to left system...the writing direction was changed to horizontal system going left to right. And brush was officially traded in for the pencil and ball point pen.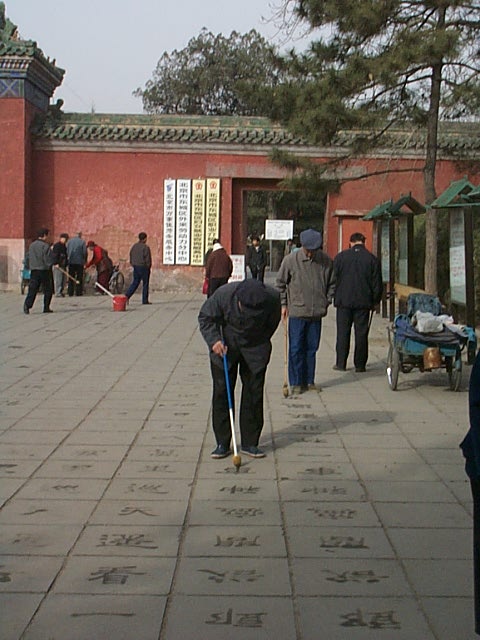 However, in the mornings, in China, the old art form of Calligraphy is often practiced in the parks. Extended brushes, and water are the tools of choice used to write the Chinese characters on the concrete tiles. The old form, direction, top to bottom is used. The writer carefully centers each character in the tile and when the character is finished, the writer slowly steps backward to the next tile ...and so on down the column. An accomplished calligrapher is considered an artist.
English has 2 styles of writing: printing and cursive. Chinese has 4 styles.
More on this later....